Real Estate Commissions in Toronto, Canada?
The real estate agent commission fee in Toronto, Canada is 5%. The commission is usually evenly split between the seller's agent and the buyer's agent – typically 2.5% to the seller's agent and 2.5% to the buyer's agent.
According to the industry standard in Ontario, the seller typically pays a 5% commission on the final sale price of a property.
Commission split can vary depending on what the seller arranges with their agent. Sometimes offering a buyer's agent commission of 3% is a great way to attract more views to a home—for example, 2% to the seller and 3% to the buyer. The commission is negotiable, depending on the property and the market.
The buyer does not typically pay real estate commissions because the seller distributes commissions to the agents. However, since the commission fees are part of the purchase price, one could argue that fees for the buyer's agent are not technically "free."
The seller is also responsible for paying HST, which is added on top of the commission.
Real Estate Agent Commission Rate Averages in 2021
The current average real estate agent commission in the Greater Toronto Area is 2% based on data collected by Fivewalls Realty, Brokerage in 2021. *This data was collected by Fivewalls for the year 2021. It is based on a wide range of agents who work for various brokerages who are part of the Fivewalls Network. Agents in the Fivewalls network have a minimum of 5 years of experience and have an average 8 years of experience with an average 15 numbers of transactions per year.
If you are looking to sell a home, expect to pay your sellers agent an average 2% however, we have seen ranges from 1% to 2.5% commission for seller's agents.
For the buyer's agent, the average commission is 2.5% with a range from 2% to 3%. You can see that the buyer's agent commission is higher than a sellers agent commission and could be due to a few reasons. The major reason for this shift is because the Greater Toronto Area is in a sellers' market. This means home tend to sell very quickly with multiple offers. A marketing tactic that some seller's agents use to attract buyers is to offer the buyer's agent a high commission percentage. Remember, the buyer's agent commission is determined by the sellers of the home.
If you are looking to sell a detached home in the Greater Toronto Area, expect to pay 2% commission for your seller's agent, while those looking to sell their condo can expect to pay 2.5% for their seller's agent commission.
---
Real estate market trends
Thank you! We'll be in touch.
Sign up to get current real estate news
---
Sellers may not always pay the buyer's agent commission. Look for the commission section on your agent's agreement. It will outline what happens if the seller does not pay for the buyer's agent commission.
This section will state that if a seller does not pay the buyer's agent commission, the buyer will be responsible for paying the commission. Commission fees are either a flat fee or a percentage of the purchase price and can be negotiated.
An example of when a seller may not pay an agent's commission is when the seller is listing their home by themselves. However, many agents will negotiate with the seller to collect a commission from them and will only resort to the buyer paying the commission as a last resort.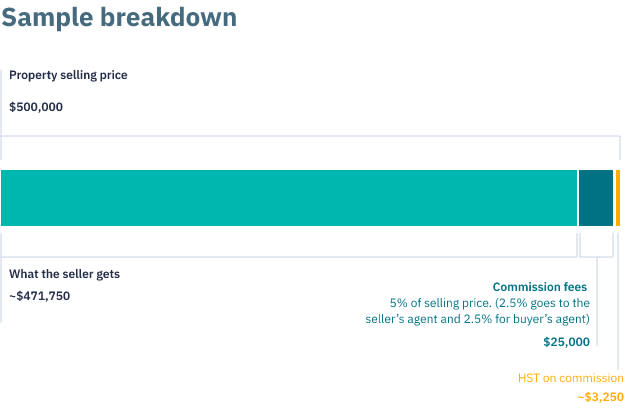 Get competitive commission rates with top-reviewed agents
We work with the top agents from leading brokerages in Canada.
FAQ on commissions
How is the real estate commission paid out?
Lawyers pay out the commission according to the contracts signed by real estate agents and the seller.
What is a 1% agent and how does that compare to a full-service real estate agent?
It is rare for a seller to pay 1% on commission fees to sell a home. Most of the time, the 1% commission is for the listing agent and a 2.5% commission for the buyer's agent. This is a typical structure for discount brokerages.
Are agents allowed to double-end a real estate commission?
Yes, they are, but they are required to tell you before you sign any contracts with them.
Can I save with a flat-fee commission?
It depends on how you define saving. Not every listing agent will accept a flat-fee commission. It may appear to save the seller money upfront, but the property may not get as much exposure to the right buyers.
If you're working with a flat-fee commission, make sure you understand what services are included. You may find yourself having to stage the home, take professional photos, handling appointments and negotiating with buyers because flat-fee services typically only include listing your home.
Can I negotiate commission fees with my agent?
Real estate commissions are negotiable. Keep in mind that some agents will agree to reduce their fees right upfront. Some agents will not lower their fees because of the services they offer.
Services might include staging the home, taking professional photos, and handling appointments – it could make selling or buying a home much more comfortable. Agents at Fivewalls are happy to explain why they charge commission and the services that they offer.
Tips on negotiating commission
Do
Reach out to a few real estate agents.

Ask in details about the services that they offer.

Get a deep understanding of what your home really needs to get the highest price.

If your home is move-in ready in a high-demand neighborhood, this may be something you can discuss with your agent.

Ask how much your agent plans on spending in marketing for your home.
Don't
Start the conversation with an agent by asking how low they'll go on their commission fees. Ask them about their services instead.

Get hung up on commissions – keep in mind that you will stick with your real estate agents for a couple of months. You need someone who is responsive and a great personality to work with.

Don't get swayed by agents who will lower their commission rate. Remember, you want them to negotiate the highest price when you sell your home.
Other notes
Homes that take longer to sell will be harder to negotiate.

If you plan on using the same agent to buy and sell a home, you may be able to negotiate a lower rate depending on your properties.

Homes that are more expensive are typically easier to negotiate.

Sometimes a lower spend could mean a reduction in fees. Remember that agents are the ones who pay for marketing.
There are other costs associated with buying and selling real estate. These might include legal fees, home inspections, upgrades and renovations and credit check fees.
---
Reach out to one of our agents to learn how you could save money.
---
Housing market inside scoop
Thank you! We'll be in touch.
Sign up to get news before everyone else!
Get a home appraisal. It's free.
Tell us a bit about your home.
A Fivewalls representative will reach out to help you get a detailed property assessment.
Receive at least 3 estimates from top, local real estate agents.