Buyers
Last Updated: Feb 27, 2019
Searching for homes with your partner is such an exciting experience! It is the next chapter of your lives together!
But does it make sense to buy a house before getting married, or waiting until after you tie the knot?

Does It Really Matter?
The biggest thing marital status affects when you are buying a home is the title to the property. Should you ever decide to go your separate ways, there are laws to help obtain what each of you own. Those laws do not exist for unmarried couples and depending on how you signed the title to the property, you could walk away with nearly nothing.
But other than the title to the property, everything else will remain the same as when you were not married.

The Most Important Things To Consider Before Buying A House Together


1. Credit Score
Whether you are married or not, one of the most important things to consider is your partner's credit score. If they have poor credit and you are applying for a loan together, it can affect what you are approved for and the interest rates offered to you negatively.

2. Income
If your partner makes less than you, that can affect how you title the property and even your own good credit score, seeing as you could be responsible for more of the expenses. If you sign the title of the property as tenants in common, you could own 60%, but your partner owns 40%. There are other ways to sign the title, either as the sole owner, or joint tenants when buying a house with your significant other.

The best thing would be to come up with a budget before even applying for a mortgage. If you join your bank accounts, which can easily be done as a non-married couple, it will be easier to see what you have to work with and what bank accounts the payments should come out of.

Disagreeing On Things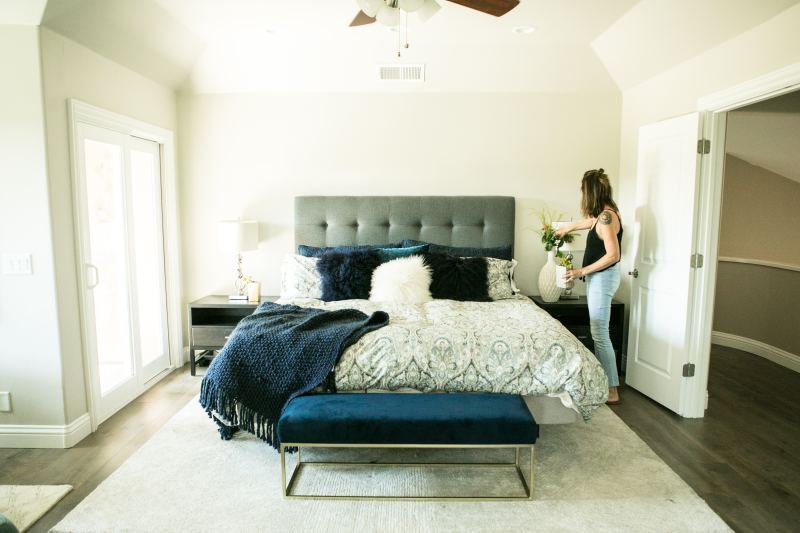 Even though you are in love with each other, that does not mean you will love all the same things. Your taste in decorating may be completely different. What to paint the walls, what couch to buy, how much you are willing to spend on furniture/decorations are all things you should talk about beforehand.
The price of the home should be talked about too. You may want to spend more money on a newly built home, but your partner may think it is wiser to buy an older, cheaper home. You may have different ideas on how long you plan on living there too. Come time to choose a mortgage and amortization period, if you did not consult about your decision beforehand, it could lead to problems before even moving in together!
If you and your partner are tying the knot soon, it should not matter if you buy a house now together or wait until you are married. Other than how your property is titled, everything else is relatively the same if you are not married.

Moving in together comes with a lot of compromise though. Just because you like the look of something does not mean your partner will. Plan these things beforehand so you do not run into issues and arguments after you have moved in.
View top Fivewalls agents to help you here:


Agent Name: Peter K. | View Agent Profile>>
Serving Area: Cambridge, Kitchener-Waterloo
"With my proven systematic approach and multi-faceted marketing plan, my goal is to have an overall positive experience and exceed anyone's expectations."



Agent Name: Noella I. | View Agent Profile>>
Serving Area: Brampton, Etobicoke, Hamilton, Mississauga, North York, Scarborough, Toronto
"Since being introduced to real estate over 10 years ago, I knew I could make a difference in people's lives."