Market News
Last Updated: Feb 21, 2020
Fivewalls recent research shows that millennials, especially those in the GTA, face many stresses as they enter the housing market. Three storm fronts are brewing to make a Perfect Storm and they are feeling it. Storm front one - the relative mortgage debt load is 400% greater than it was for their parents. Storm front two - there is the challenge and confusion around the qualifying mortgage stress test rules which limit borrowing capacity. Storm front three - with only a few exceptions, the Canadian housing market is mostly a seller's market.
Adding to the confusion is the very recent development in the mortgage rules. Canada's Department of Finance is easing the "stress test" for insured mortgages by changing how the minimum qualifying rate is determined beginning April 6, 2020. Instead of having buyers qualify two per cent on top of the Bank of Canada's five-year posted rate, buyers can now qualify two per cent above the rate from mortgage insurance applications.
Millennials Are Faced with Unprecedented Levels of Debt
Beginning 2020, the average price of a detached home in the GTA was just shy of $1 million and the average condominium at $630,000. The traditional 20% down payment is $208,000 and $126,000 for a detached home and condominium respectively. This remaining debt which is nearly 10 times the median household income for detached homes (7.6 times for condominiums) is keeping potential buyers awake at night. In 1980, when the millennials parents were purchasing a house, it was only 2.6 times. "I don't think most boomers can truly relate to the level of stress their millennial children feel in today's housing market. Conceptually you can see the numbers but it is another thing to experience it in the heat of the moment. I could see and feel the emotion in our recent focus group discussions", says Paul Hayman, CEO at Fivewalls.
As one potential buyer stated: "I want to buy a home but, I am going to be in debt for the rest of my life. It is really scary and overwhelming". The problem is compounded by the seller's market which currently exists in much of Ontario and most of the major markets in Canada. The lack of inventory is creating the imbalance and driving a "hot" market. TREB reported 7,772 active listings in January, which is a decrease of 35% from last year. In most of Ontario, Fivewalls is experiencing a much more active winter market than in 2018 and 2019.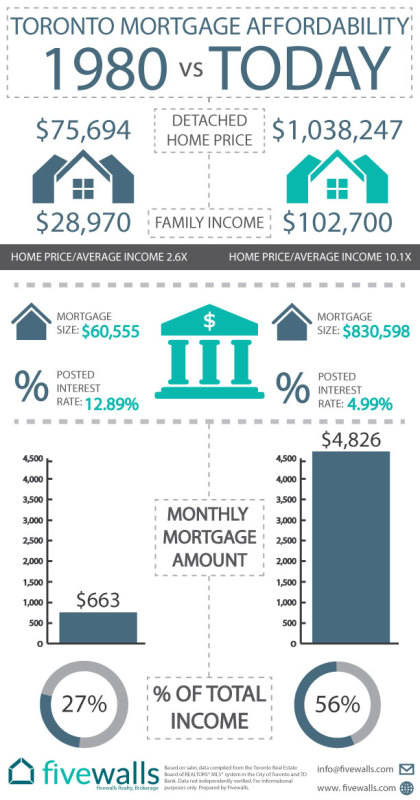 Impact of The Change in the "stress test" Calculation
In a CBC recent article, it was calculated that the new stress test would allow buyers with an annual income of $100,000 to increase their purchasing power by 3%. That means they can afford 3% more in property price. Buyers can qualify for more money and it is coming at a time where the GTA is expected to experience property price increases of 9.2% in 2020. FOMO, fear of missing out, from January to April of 2017 which caused housing prices to rapidly increase is highly expected to return in the spring of 2020 as buyers' purchasing power increases.
Similarities to the 2017 Housing Market
In 2017, FOMO drove the average price of a detached home in the winter market up by 19.5% in GTA from January to April. This super heated market resulted in a buyer taking significant financial risk to get into the market. As a result, the credit markets were exposed to a higher risk than Canadian regulators felt was prudent. In late 2017, OFSI (Office of the Superintendent of Financial Institutions) stepped in to create the "stress test" which are a stringent set of rules that home buyers must go through to determine if they can still meet mortgage payments if interest rates increase. Up until this week's announcement it uses the 5-year benchmark rate established by the Bank of Canada or the buyer's own mortgage rate plus 2% to determine how much money one can borrow.
Seasoned full-time real estate agents know they have an important role in mentoring the millennial buyer in the current market. They also know their buyer needs to seek professional advice from a recognized mortgage lender to ensure they know their mortgage "stress test" limits. The increased education can't change the market dynamics, but it can make for more restful nights and a better outcome for all.
Advice for Buyers in A Seller's Market
To compete in a hot housing market, it is essential that the buyer knows their personal comfort zone with respect to their debt load and the maximum loan they can get under the stress test rules. If these limits are not clear before the buyer sees the home of their dreams, it is unlikely that they will win a multi-bid offer. "We were quite surprised by buyers' lack of clarity around the mortgage qualifying rules", said Hayman. As a result, we are emphasizing to our independent network of top full-time real estate professionals that they make sure their buyers have done their homework in advance. Without reaching out to a financial institution in advance the buyer is at a big disadvantage when trying to win a multiple bid situation.
About Fivewalls
Fivewalls is the leading place to search for a vetted, top real estate agent at no additional cost. We specialize in screening real estate professionals for years of experience, service, transactions and customer satisfaction ratings. Home buyers and sellers can go on Fivewalls to see profiles of top real estate agents in their area and complete due diligence before picking one. For more information please visit www.fivewalls.com
This article was written by using information from Statistics Canada, the Toronto Real Estate Board, the Real Estate Board of Greater Vancouver and CBC News.