Tips & Advice
Last Updated: Mar 14, 2019
Once your baby starts crawling, or if you have a toddler, things are no longer out of their reach and there are lots of surfaces they could potentially bump up against. There are lots of ways to avoid accidents and prevent injuries.
Go room-to-room and begin child-proofing your home.

Every parent knows how child locks work for door knobs and cabinetry, but there are also locks for appliances like the fridge, stove, and dishwasher. Dishwashers are especially a safety hazard because they are down so low and easy to open where there are knives and other sharp utensils inside. The oven door is easy to open too, so make sure the door is locked. Take these precautions as well:

Gate the kitchen off
Push things away from the edge of the counter
Turn pots and pan handles inwards
Unplug things like the kettle and toaster when not in use
Keep your knife holder in a higher cabinet
Make sure fridge magnets are out of reach
Buy stove guards for knobs and burners
Do not leave stool out for them to climb on
Keep any medications higher up
Buy non-slip rugs
Move any plastic bags to a higher cabinet
Keep child in high chair and make sure they are securely strapped in

The Dining Room
Make sure the edges of your dining table have bumper guards on them to try and prevent any injury. Make sure cutlery and glass or porcelain plates, mugs and bowls are pushed away from the edge and towards the middle of the table. Apply covers to any outlets around the room, and make sure the blinds cord is out of reach or cut shorter.

The living room is the gathering place for the family, so your baby/toddler will most likely be spending a lot of time playing there. Making sure things like power bars and outlets are essential, as well as:

Covering cords/cables with tape
Keeping candles and other décor/knickknacks out of reach
Blinds cords are out of reach
Cover the fireplace up
Add edge bumpers to end/coffee tables
Keep all their unused toys stored away in a bin or basket
Make sure bookshelves are secure (if they decide to try climbing
Store batteries or things like matches or a lighter out of reach
Picture frames are out of reach or hung on the walls instead
Keep plants higher up/out of reach
If T.V is not mounted, make sure table is secure
Install window guards

The Bathroom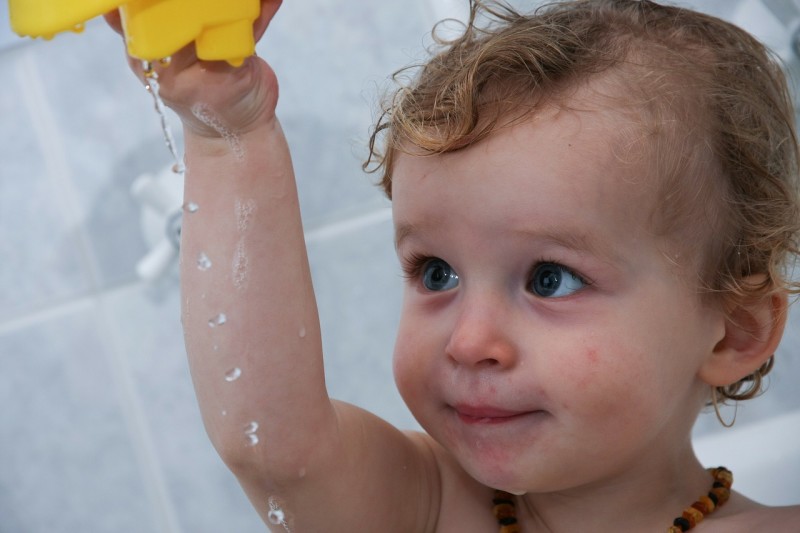 The bathroom can be a dangerous place for your toddler to explore, especially if they turn on the hot water or try to get into cabinet with cleaning supplies. Make sure you have things like:
A gate to block off the room
Non-slip mats on the floor and in the tub
Door locks on the cabinets
Store cleaning supplies and hairdryers, curlers, straighteners and medication out of reach
Always leave hairdryer and straighteners unplugged and away from edge of counter
Add a toilet lock
Put locks on faucets

The Bedroom
Your baby or toddler will spend a lot of time in their bedroom playing as well, so making sure things like toys and other hazards are secure are important. Set up safety features such as:

Bins or baskets for toys so they are not left on the floor
Cover outlets and hide any cords
Add thick carpets (and non-slip)
Put a guard on the window or invest in cordless blinds
Buy finger-pinching guards
Put bumpers on dressers or bedtables
Make sure mobiles above the crib are out of reach
Make sure lamps are higher up and out of reach as well

There are lots of ways to child-poof your home so you do not have to worry about unnecessary bumps and bruises. Lock guards, finger-pinching guards, and safety gates will be your best friend!