Tips & Advice, Buyers, Investors
Last Updated: Feb 05, 2021
We have received many questions in regard to where we feel is a great place to actually take action and invest. Without a doubt, we feel Kitchener/Waterloo is one of the top spots outside of the GTA to grow your hard-earned money and below we explain why:
Some Quick Facts about the Region:
1. Cheaper to Buy a Home
It is much less costly to buy a home in the Kitchener-Waterloo area vs the GTA and surrounding suburbs. Properties we seek out in Kitchener are as much as 25-40% cheaper.

2. A Growing Population and Year-over-Year GDP Growth
Kitchener-Waterloo is one of the fastest-growing metropolitan areas in Canada. (Remember when Milton was just getting noticed in the late 2000's and rapidly growing, well it's now a tougher area to invest in due to the higher prices).


3. High Rental Rates
Kitchener Rental Rates were the fastest growing rates in Canada that soared between 10-17% depending on the unit size. This steady growth continues in 2020.
4. Low Vacancy Rate
The region has one of the lowest vacancy rates in the country for 3 bedroom homes at around 1.3% as well as low tenant turnover rates.
5. Higher Quality Tenants
In a large tech eco-system, Kitchener offers more AAA tenants. With COVID-19, more and more of these white-collar employees are working from home. They are seeking out larger dwellings outside of the GTA for more space. The main key fears landlords have are payment delinquencies and damage to their property. However, with the tenant quality of professionals we are renting to, we are seeing more and more high income/skilled tenants with greater job security.
6. Innovation
There is access to world-class facilities that foster technological, artistic and cultural advances as well as Top Educational Institutes such as University of Waterloo, Laurier University and Conestoga College, amongst many more. A large percentage of these graduates tend to stay in the region due to employment opportunities.
7. Silicon Valley North
Kitchener-Waterloo has been dubbed Silicon Valley North, as it has the highest density of tech start-ups in Canada, and the second-highest in the world. Google, Shopify, D2L, Christie Digital, Vidyard, Thalmic Labs, OpenText, Miovision, Communitech, and Square are just a few of the global tech giants that call Kitchener-Waterloo home.
8. Investment in Infrastructure
Kitchener-Waterloo has recently seen major improvements in transportation infrastructure, including the completion of the iON LRT. Further, the minister of transportation has confirmed that two-way, all-day GO trains between Kitchener and Toronto will be a reality before 2024.

Population growth, employment opportunities, business development, and infrastructure expansion all play a key role in the continuing advancement of this city. The region is growing rapidly and is definitely a great opportunity for investors.
Kitchener-Waterloo's Current Housing Market Stats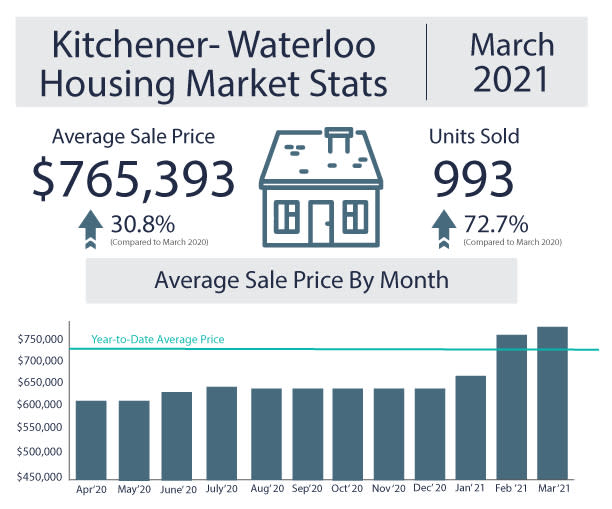 Convinced to move to this area? Consult one of Fivewalls' top Kitchener-Waterloo realtors first to strategically plan your next step.
Written by Kalpana Bhavsar and Paul Bajwa.
Click here to view Kalpana's Fivewalls Profile!
Top Real Estate Agents By City