Tips & Advice
Last Updated: Apr 03, 2020
You are going to be spending a lot of time in the nursery once your newest addition arrives, so making the room feel as comfortable, warm and relaxing as possible is key. It can also be a fun project for you to work on together!

1. Come Up With A Layout First
Before even beginning to paint or decorate the spare room that will become your nursery, draw a design idea out first and try to picture where the furniture will go. Once you have come up with the plan and what furniture can fit in the room, then you can start purchasing the required items. If you are having trouble deciding what décor you want or what colours to use, come up with a theme like:

Jungle theme
Woodland theme
Just one animal (elephants or foxes are always a cute idea)
Nautical theme
Trains or airplane theme
Alphabet theme
Adventure theme
Modern style
Rustic style
Vintage style

2. Paint & Flooring
Once you have decided on the paint colour, start painting, since it will require a few coats. Give the trimming a nice coat of paint too. White is the most popular colour, since it goes with everything and gives the room a nice clean look. Next, move to the flooring. Do you want carpet in their room or hardwood with carpets? If you go with carpet, make sure it is easy to clean. If the floor is hardwood, opt for non-slip carpets that are nice and thick to cushion any falls once they are able to start crawling. Add some wall accents to tie in with your theme or add their name! If you do not want to paint and are looking at wallpapers, go with a washable wallpaper and a design that you will not want to change years down the road.

3. Bring In Furniture
Make sure you are measuring the space before buying the furniture so it all fits. Once you start building it, place it around how you originally planned. If it was not what you expected, then make changes. You want the flow of the room to feel natural, not cramped or cluttered. If furniture is bulkier than you thought, return it. Try to think long-term too. What furniture could still be used years down the road?

Bookshelves
Curtain
Blankets/quilts
Pillows
Rocking chair or glider
Lamps (or nightlights)
Dressers
Hampers
Toy baskets

4. Décor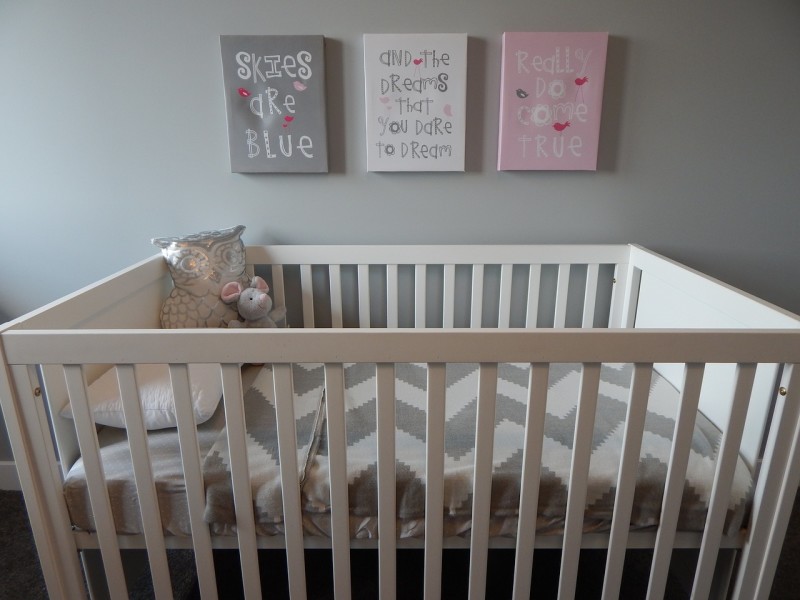 Adding pictures or mirrors to the walls can make the room feel more complete. Buy pictures, or frame your own pictures, that will not have to be taken down once they have grown into the room more. Add décor like stuffed animals and even toy baskets and hampers that tie in with your theme. Make everything look complete, but not cluttered. And make sure décor is out of reach once they are able to start exploring more.

Bins, baskets, shelves, and jars will be your best friend. Your baby grows fast (sorry to break it to you) so they will go through a lot of different clothes, shoes, diapers, toys, books, etc. Keep everything organized. Have a basket for toys, a basket for books, and display their favourite books on shelves hanging in the room. Keep diapers and cloths and wipes in their own baskets too. That way they are easy to grab when you are changing your baby and the room does not look messy. Bins and baskets can easily be stored in the closet when not in use.

There are lots of things to consider when you are decorating your bundle of joy's nursery. Since you will be spending a lot of time in there, and your baby will be growing with the room, make it comfortable and try to think of long-term designs. In case you missed it, here are other must-haves for a nursery:
Decorating a baby nursery can be a fun experience. All the cute décor to choose from is endless!

1. A Crib
Having to buy a crib is slightly obvious, but you would be surprised at how many varieties of cribs there are to choose from. Choosing a mattress for it can be the hardest part since there are so many kinds to choose from. Whether you buy a nice firm mattress, or organic mattress, make sure it fits the crib and there are no spaces on the sides.

2. Changing Table Or Changing Pad
If you do not have room for a changing table, you can buy a changing pad to use anywhere, whether it be on the floor or maybe on top of the dresser. Try to think of the best long term solution and what works best with the space you have.

3. Mobile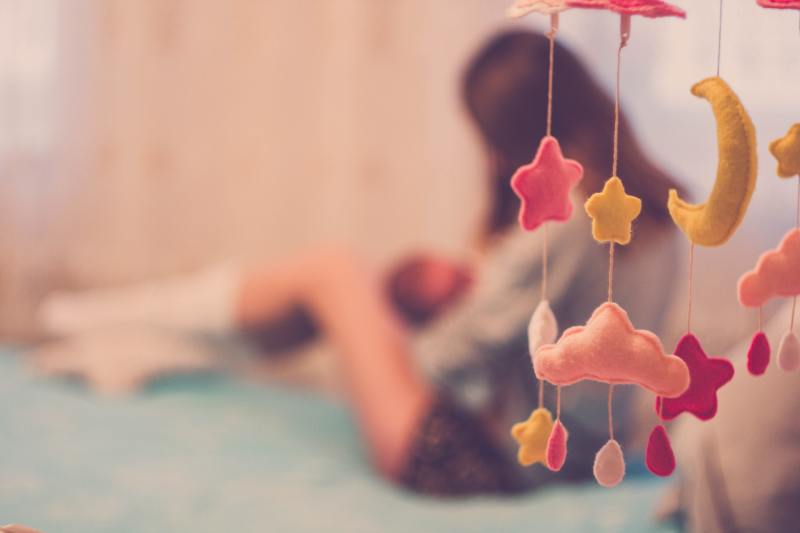 A mobile placed above the crib and out of reach could be a great way to soothe your baby to sleep. Some mobiles will play light music, while others are specifically meant to stimulate your baby's mind and help with brain development. Some play soothing nature sounds or have dim lights on them for in the dark. There are lots of options to choose from and it really all comes down to what you personally feel is best.

4. Baby Monitor
There is no better way to keep a watchful eye on your baby than with a baby monitor. It can always be kept with you for constant audio and visual contact.

5. Nightlight
Nightlights can be used for both you and your baby: when you need to see at night and do not want to turn the full light on, and when your baby wakes up in the middle of the night they will not be afraid of the dark. Some nightlights can play soothing music too and shine stars on the ceiling to help your baby drift off to sleep.

6. Hamper
Your baby will go through a lot of clothes throughout the week, so the best way to stay on top of the laundry is getting them their own laundry hamper. They come in various designs and sizes and will be convenient for you every time you need to change them, which may be a few times a day!

7. Garbage Can/Diaper Pail
Make sure the pail has a lid on it to block out the scent from all those dirty diapers! This will come in handy to you every time you need to change them. Have it conveniently located next to the changing table, next to the dresser, or have it off to the corner if you change them on a pad.

8. Basket For Toys
Avoid any potential injuries (and keep the room clean) by having baskets or bins for their toys, stuffed animals and blankets. This way they will not crawl or step on anything that could hurt them and you will not trip over anything in the middle of the night.

Before the baby arrives, create a checklist of everything you need, things that will be handy and a separate list of maybes. Once the baby arrives and you get into a routine, you will know what works best and what you may need to invest in soon.