Last Updated: Jun 11, 2020
Nowadays everything from mattresses, hotels and even the products on a supermarket shelf have reviews. We have now come to expect to read reviews for any product we buy as well as any services we use. While many of us simply look at the star rating and the number of reviews to make a quick judgement but for a service, we will be paying thousands of dollars for, it is recommended to read through past customer experiences especially since buying and/or selling your home is a very personal transaction.
When trying to find the right agent to help you buy or sell a home, here are the top things to look for in their real estate reviews:
1. Look for written testimonials from buyers or sellers, not just other people who are irrelevant to buying and selling a home.
When looking at reviews for real estate agents you want to see reviews that have a written testimonial from a past client, someone who was buying or selling through the agent. Many agents to help "boost" up their review count will get other professionals they worked with to leave them a review. While these reviews can be helpful to see that the agent has a large network you want to focus on past client testimonials.
2. Look for adjectives in the reviews to get an understanding of how people felt when working with their real estate agent.
Positive or negative words about a real estate agent speaks volumes to the experience they provide, especially when buying and selling can get complicated or stressful. Seeing words such as, 'fantastic', 'awesome', 'kind', and 'patient' can tell you about the experience to expect. Especially in a time where a lot of real estate agents have a bad reputation, seeing the positive adjectives and descriptions can help you find an agent who will work hard for you and deliver great service.
3. Look for problems that agents have helped the customer solve in real estate agent reviews.
While reading reviews, it is always best to keep an eye out for customers who talk about a specific problem they had and how the agent helped them through the issue. This way you can see how an agent responds to problems.
4. Look for the year that the review was written.
The year of the review is important for a few reasons. It's 2020 and if the last review that the agent has was from 5 years ago, you may be concerned about consistency in their service or if they are still active as an agent. An active real estate agent consistently collects reviews because it's important to their brand.
5. Watch out for reviews that say the real estate agent sold a property for above asking.
This is about setting expectations. Just because one property sold for above asking doesn't necessarily reflect the agent's ability. The year of the review can tell you how active the housing market was. For example, homes in 2018 were likely not selling for much above asking compared to homes in early 2017 or 2016 when the market was really hot. So, reviews that say the real estate agent sold the property above asking are likely more common prior to 2017 compared to after and likely a result of the market versus the real estate agent's ability. Of course, it's always important to look for context in the reviews because even homes in a hot market can be difficult to sell.
6. Look for reviews that matter to your situation.
Real estate is personal and we have made it our mission at Fivewalls to recruit a diverse set of top real estate agents who can help you out in every way. Whether it's a relocation, downsizing a property or stress events like buying or selling a property due to a change in family, divorce or other reasons, you need to study reviews and find the agent who has dealt in those situations before. Often the personal side of a real estate agent's job is not advertised but the soft skills can help you navigate through challenges or stressful situations. If their reviews don't mention the type of personal client situations that the agents have dealt with, make sure you ask.
Get a top-rated REALTOR®
Tell us a bit about you and the property you are buying or selling.
What do people value in real estate agent reviews and services according to Fivewalls?

At Fivewalls, we have filtered through thousands of reviews and highlighted keywords and phrases from real estate agent reviews to show the most popular skills and services past customers valued most. Similar to TripAdvisor's approach, Fivewalls highlights keywords and phrases customers spoke about most in their written review. Based on this research we have compiled a list of the top skills and services customers value most in a real estate agent. Looking at these keywords can help you get a quick snapshot of where an agent's skills lie and if these match your needs.
Responsiveness
Having an agent who responds quickly to your messages and continues to keep you informed during the home buying or selling process is the number one thing people look for. When reading reviews keep an eye out for how many times a past client mentions an agent's responsiveness or how quickly they responded. This will tell you how easy it will be to get a hold of them.
Patience
Having patience is key when looking for a real estate agent especially when buying a home. The home buying process can take much more time than some buyers first imagine, and you don't ever want to feel rushed or pressured into a decision. Look for comments on how the agent guided their past clients through a home purchase or sale. You can also see reviews about how real estate agents handled questions that clients asked.
Good at negotiating
Having strong negotiating skills is the second most requested skill from a real estate agent right after responsiveness. When dealing with the largest transaction of your life you need a strong negotiator in your corner, so you know you are getting the best deal. This is hard to measure because everyone values different things in a real estate deal. The ultimate indicator of a real estate agent's negotiation skills is based on how they were able to get the best terms for their client.
Knowledgeable
Whether it is local knowledge or industry knowledge you want to ensure your real estate agent is up to date with current trends and neighbourhoods. Reviews that speak to an agent's experience and how much they 'know their stuff' speak volumes. You can also look for how the agent educated their clients on market trends and giving them information on past comparable transactions.
Professional
When making the biggest financial decision in your life you want to ensure you have a professional on your side. Past clients are likely to comment on an agent's integrity, good reputation and quality of their customer service. These types of reviews will indicate how professional an agent is.
Understanding and caring
Buying or selling your home can be a stressful time especially if the purchase or sale came unexpectedly. Having an agent who is compassionate and understanding to unique situations can help make the process less stressful. Reviews that mention how sensitive a real estate agent is to a client's needs can show how well the agent is able to handle difficult situations that are personal to you.
First-time buyer/seller expert
Buying or selling your home for the first time can be an overwhelming experience and while you may have done a lot of research beforehand there is nothing better than having an agent with experience on your side. If you are going to be a first-time buyer or seller make sure your agent has reviews from others who mentioned this.
What should you look for in a real estate agent's reviews in a buyer's market?
For example, if you are looking for an agent who can sell your home for top dollar in a buyer's market, you would want to look for phrases like 'good at negotiating' and 'above and beyond' to find a real estate agent. On the flip side, as a buyer, you may prefer to look for qualities like being organized and efficient because when there are more properties in a buyer's market, you need an expert who can filter the noise and point you in the right direction.
What specifically should you look for in a real estate agent's reviews in a seller's market?
As a buyer navigating a tough seller's market, the top skills to look for in a real estate agent's reviews are obviously negotiations and market knowledge. However, responsiveness and communication are equally if not more important because if an agent is not quick to respond in a hot seller's market, you may end up missing out on properties if you are not quick enough. That is why all Fivewalls Certified Agents must respond to clients within 15 minutes during business hours because responsive communication from a good agent can help you land your dream home. Furthermore, look for qualities that speak about an agent's patience because multiple offers often happen in a seller's market and you need a real estate expert who can guide you through it.
As a seller in a seller's market, look for reviews that discuss an agent's experience with multiple offers because those are common strategies. At the same time, look for descriptions about other selling strategies that the agent has used. Given that real estate is changing even faster since the pandemic, you need to know that the agent you sell your home with has a lot of experience and ways to help you with your unique situation.
How to spot fake real estate reviews:
While reviews have boomed in popularity, it has also generated a new phenomenon of fake reviews. While this practice is deeply frowned upon and can lead to companies being blacklisted on Google, it can still happen. At Fivewalls, we make an effort to verify the legitimacy of every review but we can't speak for outside sources. Here are a few ways to tell if a real estate agent's reviews may be fake:
1. There are a LOT of reviews on the real estate agent.
If the agent has only been in the business 3 years and they are displaying almost 100 reviews this may be true but highly unlikely because an average agent in Toronto does about 2 transactions per year. Keep in mind that some agents may have a lot of reviews because they work with a team and there are superstars in the industry who do a lot of rental deals and their reviews may include people like mortgage agents, lawyers and etc.
2. There is no qualifying information about the reviewer.
Does the reviewer just have a first name and the star rating but no written testimonial? This is a red flag the review may be fake. A review should have at least a name, year and type of service completed that legitimizes the review itself.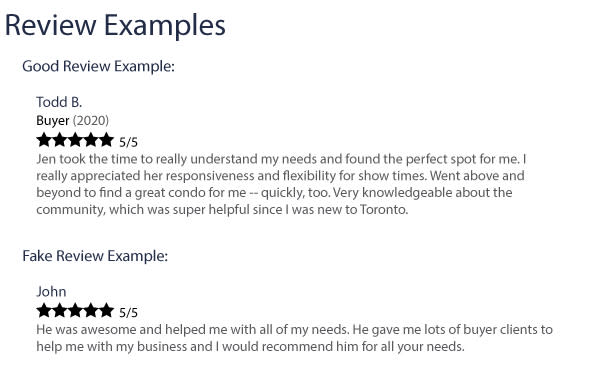 3. All of the real estate agent's reviews sound very similar with only a few words changed.
If you are thinking this, then it's a red flag. Unless the reviews came from the same family or there are multiple reviews from the same person for different transactions, it's hard to believe the validity of the review.
4. The review does not make sense.
The context of the review may not even be talking about real estate or anything relevant. Many companies outside the real estate industry have been caught with hiring people to write reviews and often those people do not understand the actual product or service they are writing about. This is another sign that the review may be fake.
5. The review features another agent's name.
Many team leaders will display reviews from their team members under their review profiles. While they may have helped with the transaction be wary of the review if it does not feature the agent's name or involvement of other team members.
One way to help not get trapped into reading fake reviews is to only look at reviews from a third-party source. Sites like Google and Facebook require members to create an account in order to leave a review and usually track IP address to help weed out any illegitimate reviews. As well at Fivewalls in order for a review to be published, we verify the legitimacy of the review. We also own Fivewalls Certified Reviews, a third-party site many Canadian real estate brokerages use to collect reviews from clients.
How many transactions do real estate agents do per year in Ontario?
Did you know that in Ontario, only 9% of agents do 10 or more transactions (buying and selling only) per year? Many agents also do rental transactions but those are not counted with the real estate board numbers. This means that an average agent who is been in the business for 5 years would serve approximately 50 clients. This is a good way to help determine how many reviews an agent should have but should only be used as a guideline. Many top-performing agents on Fivewalls help many more clients than the average agent and not all customers will leave a review no matter who amazing their service was.