Last Updated: Jun 01, 2020
First-time homebuyers in Canada's Housing Market
According to a report from the Canada Mortgage Housing Corporation (CMHC), 47% of mortgage purchases were first-time buyers in 2019 which is a drop from 56% in 2018. The majority of first-time buyers were located in Ontario between the ages of 18 and 34. COVID-19 has caused speculation as to how first-time homebuyers would be impacted as the unemployment rate skyrockets. Some possible good news for the first-time homebuyer is that they are not amongst the hardest hit when it comes to unemployment. The hardest-hit age groups when it comes to unemployment in March 2020 were 15-24 years and 65 years or more. If rents begin to decrease, first-time buyers may decide to delay purchasing a home especially as economic uncertainty persists during the pandemic.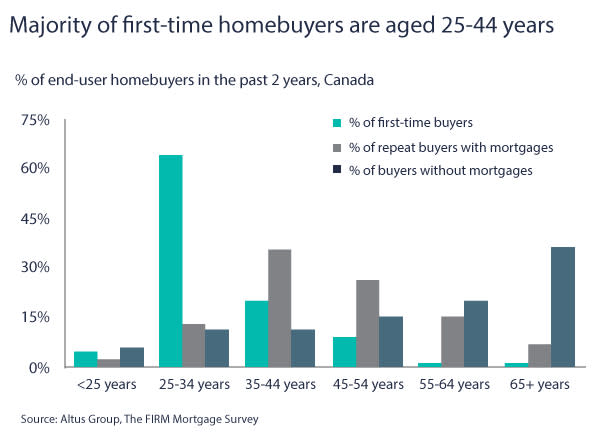 Revised forecasts on home prices in Canada show a decrease in property values

In late 2019, Royal LePage, RE/MAX and the Canadian Real Estate Association (CREA) had optimistic forecasts about Canadian real estate given the strong market activity. Home prices were expected to increase by 3.2% according to Royal LePage and as high as 6.7% according to CREA. Of course, no one could have predicted the impact of COVID-19 on the market. Newly revised forecasts show that Royal LePage predicts that home prices could rise by 1% if the economy recovers quickly from COVID-19 but prices could drop as much as 3%. Furthermore, RE/MAX is also predicting that home prices could drop by 2.9%. There has not been an update from CREA yet, but this is not surprising given the uncertainty of the economy, it is difficult to make a good prediction when things are changing quickly.
Impact housing prices and sales since the pandemic hit (data from Toronto Region Real Estate Board)
1. Sales/Active Listings
At the start of 2020, Toronto began with a hot seller's market. Since the pandemic hit, Toronto went straight into a buyer's market as shown by the home sales over active listings ratio.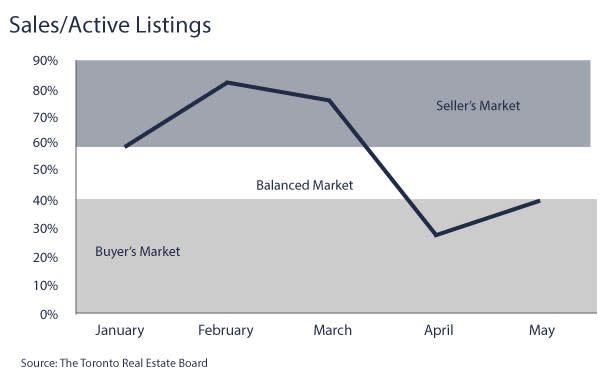 2. Home Prices
The average price of homes in Toronto fell by 9% to $820,272 from March to April as many buyers opted out of the real estate market. However, the sharp drop in prices in April were followed by a rise of 5% in May. The average home price in May increased to $863,599 but it still has a ways to recover compared to the peak of $910,290 in February.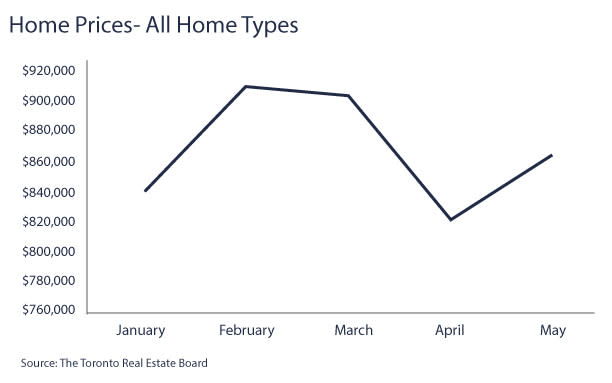 The prices of condos and detached homes fell by a similar trend with detached homes prices falling more steeply. From March to May, the average price of a condo fell by $33,000 to $625,445 and detached homes fell by nearly $75,000 to $1,033,341.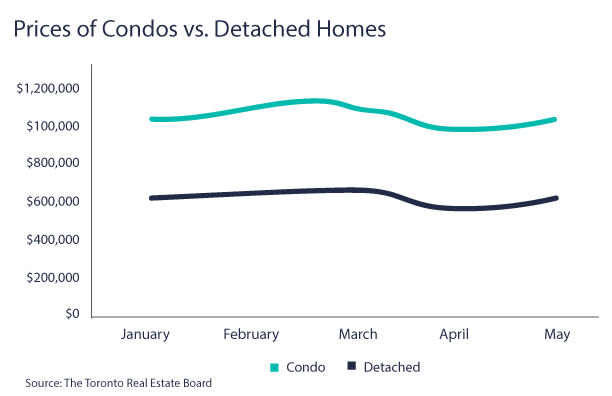 3. Volume of Home Sales
In a typical market, the number of home sales gradually increase as the year progresses with the spring and summer markets being the most active. This is typically when most transactions occur. 2020 began with a hot market with many real estate transactions happening. In March 2020, there were more transactions than the past 3 years. In April, the number of home sales fell by 63% compared to March as a result of the pandemic. Since May, home sales have recovered significantly compared to April but it is still well below the volume of transactions in 2018 and 2019.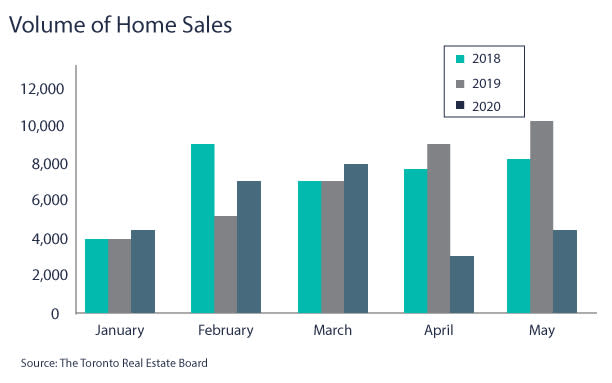 The sales volumes of condos and detached homes fell by a similar percentage as the pandemic hit. In May, we can see that the sale of detached homes are recovering slightly faster than condos.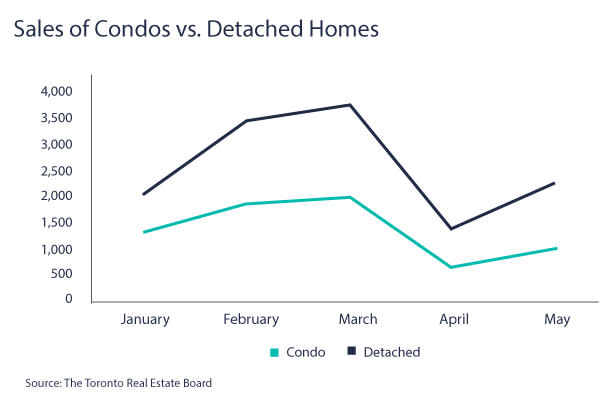 4. Active Listings
Before COVID-19, the number of listings in January to March were already fewer than the same period in 2018 and 2019. The shortage of listings drove a hot market in Toronto given the low supply and large pool of buyers. In April and May, there were relatively the same number of listings than there were in March though the pandemic has kept many sellers from putting their homes on the market.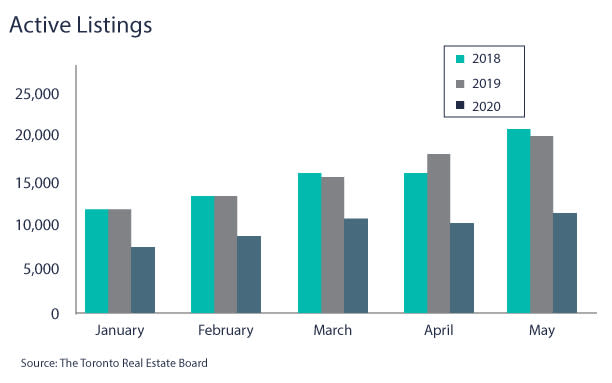 Housing Market Predictions
Before COVID-19

Post-COVID 19

Source

Original Forecast Date

Original Prediction

Updated Forecast Date

Revised Prediction

Royal LePage

December 12, 2019

Home prices to increase by 3.2% in 2020.

April 14, 2020

Home prices could go up by 1% if we recover by Q3 if not, prices will go down by 3%.

RE/MAX

November 26, 2019

Home prices to increase by 3.7% in 2020.

April 15, 2020

RE/MAX is using RBC's housing price forecast of house prices to fall by 2.9%

CREA

December 16, 2020

Home prices to increase by 6.7% in 2020

NA

They have not revised their forecasts.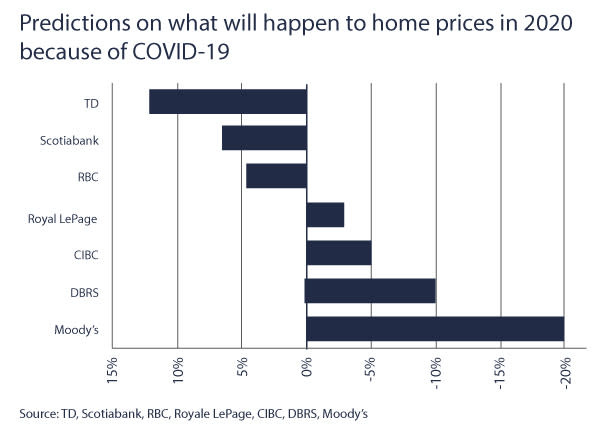 What is going on with the mortgage stress test in Canada?

The mortgage stress test was introduced by the Bank of Canada to ensure that homebuyers could afford their mortgage payments when interest rates increase. When you apply for a mortgage, you are required to qualify at a higher interest rate than what your lender would offer you based on your credit score. This would apply for everyone applying for a mortgage, not just insured mortgages. As of April 7, 2020, the minimum qualifying rate for insured mortgages will be the higher of the weekly average 5-year rate on all insured mortgages plus 2% or the rate offered by your lender plus 2%. At the time of this article, the weekly average 5-year rate stood at 4.89%. Before April, 6, 2020, the minimum qualifying rate for all mortgages was the posted Bank of Canada 5-year rate which was 5.19%.

What is the prime rate and what does that mean?

The prime rate is set by lenders and it is a floating rate that lenders use to determine their interest rate for certain products like variable mortgage rates, credit cards and Home Equity Line of Credits (HELOCs). There is a common misconception that the prime rate is set by the Bank of Canada. However, this is incorrect because the bank does not directly set up the prime rate. Lenders will adjust their prime rate according to the Bank of Canada's target overnight rate.

Housing market inside scoop
Thank you! We'll be in touch.
Sign up to get news before everyone else!
Why have banks not lowered their fixed mortgage rates as much as the Bank of Canada's target overnight rate?

You may have seen that fixed mortgage rates have not changed by much even though the Bank of Canada's target overnight rate went from 1.75% to 0.25% at the start of the COVID-19 pandemic. However, variable mortgages have dropped quickly given the Bank of Canada's response. Actually, banks have entered a liquidity crisis since the start of COVID-19 because of an increase in the demand for loans. Given that this demand is expected to continue, the general expectation is that mortgage rates will not be lowered. Furthermore, banks are now dealing with a higher amount of mortgage deferrals and they need to ensure they can support themselves. A gradual decrease in fixed mortgage rates is expected as the risk of mortgage arrears and demand for loans lowers.
See in the graphs below how 5-year variable and fixed mortgage rates have changed at the largest Canadian banks from January to May 2020. You can see the minimal drop in fixed mortgage rates compared to variable rates. Fixed mortgage rates across TD, RBC, CIBC and BMO are relatively similar to each other but the variable rates have steep differences. Keep in mind that the rates that homeowners pay on their mortgages is usually different compared to the ones posted on banks' websites.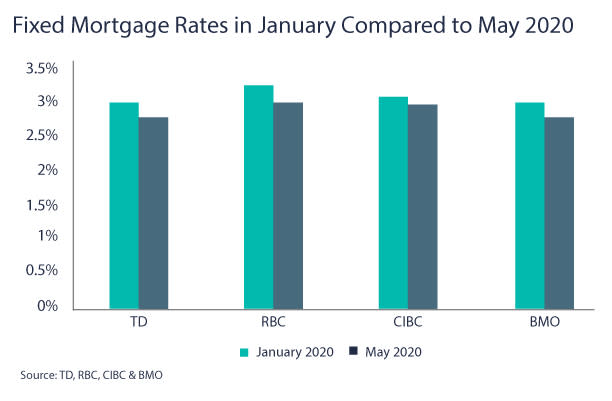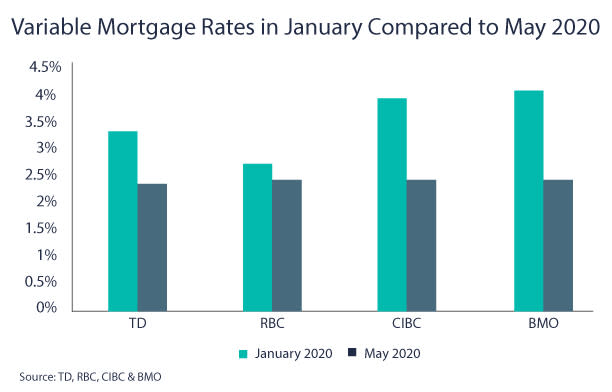 12% of mortgage holders have deferred mortgage payments so far

As of May 21, 2020, 12% of mortgage holders have deferred their payments according to Evan Siddal, the CEO of the CMHC. Mortgage deferrals allow payments to be delayed for a period of time up to 6 months after which payments go back to normal and missed payments are repaid. Of the CMHC insured mortgages that are deferred, 27% are from Quebec, 26% from Alberta and 21% from Ontario. Quebec has the largest amount of mortgages from CMHC. Siddal also estimates that as many as 20% of all CMHC insured mortgages could be deferred by September 2020 due to COVID-19.

What are the consequences of a mortgage deferral?

Interest costs: the deferred payment would get added to the interest and the amount would depend on the time left on the mortgage, interest rate and payment terms. In an example from an article by Maclean's, the additional interest on a 6-month delayed payment of $2,500 per month (that has 20 years amortization remaining and 3% interest rate) could accumulate to over $11,000 over the remaining amortization period.

Credit score impact: according to Equifax, missed mortgage payments should not impact your credit score. This is because they do not expect lenders to register the missed payment as the type that would impact credit scores.

Get a top-rated REALTOR®
Tell us a bit about you and the property you are buying or selling.
The Bank of Canada expects mortgage arrears to go up 8 times by Q4 2020 compared to the same period in 2019

On the surface, mortgage arrears happen when people miss payments and they become overdue. As explained by Better Dwelling, it's actually a signal of a declining housing market because it's more challenging to sell a home and liquidate. This is because in a hot market where the values home are increasing, selling a property can help sellers avoid going into arrears. A chart that shows what mortgage arrears would be based on the implementation of policies by the Bank of Canada compared to no policy shows the severity of the situation.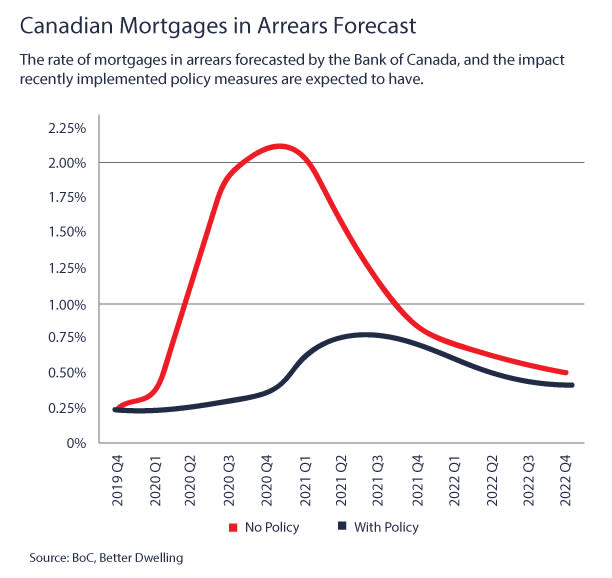 The Bank of Canada expected mortgage arrears to be nearly 3 times as worse if no policy was implemented. They expected mortgages arrears to increase by 48% in Q1 compared to Q4 2019 which means that even without COVID-19, there was concern of debt levels rising too much.
Ottawa buys up to $150 billion of insured mortgage pools through CMHC

Back on March 26, 2020, Ottawa committed to buying up to $150 billion of insured mortgage pools through CMHC in an effort to "provide stable funding to banks and mortgage lenders in order to ensure continued lending to Canadian consumers and business," according to a government statement. This amount was increased by $100 billion from the original $50 billion that was announced. A similar tactic was used during the 2008 financial crisis to ensure banks had enough flexibility and liquidity to support individuals and businesses.
Here's what experts have to say about Ottawa's move in buying up mortgages in response to COVID-19:
Impact of consumer debt on Canada's housing market

Growing consumer debt has been a concern for Canadian households even before COVID-19. An Equifax report emphasized the risks posed in Canadian consumer credit. It showed that an increase in mortgages triggered consumer debt to be 4.4% higher at the end of 2019 compared to the same period in 2018. Furthermore, CMHC expects the ratio of household debt to GDP to reach 130% in Q3 2020 compared to the 99% that it was before COVID-19. They also predict that debt as a share of disposable income would increase to 230% from 176%.
The consumer debt risks along with economic uncertainty has resulted in dire forecasts about Canada's housing market. The CMHC has predicted that housing prices could drop as much as 9 to 18% over the next year. Moreover, this is also similar to what the credit rating agency, DBRS Morningstar, predicted in terms of housing prices could fall by 10% to 15%.

What housing affordability projects in Canada have been affected by COVID-19?

The government kept construction projects that began before the pandemic going by allowing them to continue construction. Although that decision has been faced with criticism given that construction workers were seen without personal protective equipment (PPE) and not social distancing, it's allowed for affordability projects to continue. In Toronto, the Affordable Housing Now Initiative plan is moving forward and just announced Phase 2 of the project. The plan will create an additional 1,455 to 17,10 residential units of which 1,060 and 1,240 of those units will be purpose-built rentals and 530 to 620 of those rentals will be classified as affordable. Given that construction crews develop new systems for social distancing, the completion of many units will be delayed

Find the right agent for your next property

ABOUT US: Fivewalls empowers home buyers and sellers to find the best real estate agent for their families. We've done all the work for you by creating one secure site to meet and contact top real estate professionals from leading brokerages.
Disclaimer: given that the Coronavirus (COVID-19) has caused shocks to how real estate is operated, please note that the information above could change at any time given that companies are constantly updating their policies in response to the pandemic. Intended to Solicit Buyers or Sellers that are not currently under contract with another real estate brokerage.