Last Updated: May 07, 2020
How Real Estate Agents Are Helping Home Buyers
While it's no surprise that video and virtual tours have been around in real estate for a while, COVID-19 has forced more real estate agents to offer these services to minimize interruptions for home buyers. We expect to see that video and 3D tours will become a normal prerequisite to viewing a home in person. People will view less homes and real estate agents will offer to pre-visit the homes to take a live video if the home doesn't have a 3D tour.
Having a real estate agent representing you will become something you need to do early on in your home search. Many sellers will now not let buyers into their home with out agent representation. Real estate agents will also become a key factor for when you want more detail of a home as they can go and take a personalized video tour for you.
Real Estate Contracts Are Being Updated to Account for Changes Due To COVID-19
E-signatures will become the standard practice moving forward when signing purchase and sale agreements as well as third-party related closing documents. Regional real estate associations have also rolled out additional schedules to contracts for speciality clauses relevant to COVID-19. This is done to protect buyers and sellers from delays in closing the home due to unforeseen potential closures to entities they rely on to close the sale. A buyer may need to buy a home without viewing it first but their real estate agent can put in special clauses that can put contingencies in place so that buyers can either view the home or have a home inspection before the deal firms. While that may seem unlikely, the real estate industry has been forced to adapt quickly to minimize interruptions for both buyers and sellers.
Impact on Home Sellers and How Selling A Home Has Changed
Having a progressive real estate agent who already knows how to use video software to market homes is proving to give those sellers an upper hand compared with real estate agents who do not use digital software. Video and 3D tours will allow potential buyers to view the property in detail before they go into the home and for the rest of the year, we expect to see this trend continue. It will take more effort for a home to sell as home buyers are unlikely to purchase a house without seeing it in person. In the short-term, there are no tools available to replace the in-person experience. As a result, real estate agents have started to offer to do online live showings to improve the visibility of homes and answer questions from buyers.
Could Virtual Staging Replace Traditional Home Staging?
Another trend we are seeing is the impact on home staging. Since social distancing has affected home stagers' abilities to move furniture between different homes, virtual staging has been adopted more over the last few weeks. It allows real estate agents to stage a home using pictures of furniture. Since it has not been used wisely, if a home has virtual staging, it must be clearly disclosed on the listing to ensure that buyers understand which appliances are included or not.
Virtual meeting software can allow you to host a "virtual open house" when potential homebuyers can ask questions about the home and have a live tour without ever having to step foot in the home.
No Surprise, Open Houses Are Strongly Discouraged and Will Be for A While
Canadian real estate associations have reacted differently on having open houses. One thing they have in common is discouraging open houses and even in-person showings. Many real estate boards have not directly their members to cancel showings and open houses but they are strongly recommending that they limit and cancel these practices temporarily. Here is what some provinces are doing in reacting to open houses:
Ontario: The Real Estate Council of Ontario (RECO)

has only strongly recommended that brokerages and salespeople limit showings and directing that open houses be ceased.

British Columbia:

The

Real Estate Council of British Columbia (RECBC)

has taken a similar stance to Ontario in recommending that open houses and in-person showings be limited or cancelled.

Alberta: The Alberta Real Estate Association (AREA) has banned open houses for the time being.
Housing market inside scoop
Thank you! We'll be in touch.
Sign up to get news before everyone else!
Impact on The Construction Industry In Canada
For pre-construction projects, it's no surprise that many will experience delays in occupancy and closing dates. Builder agreements usually include a clause from the Tarion Warranty that allow the builder to extend closing due to unavoidable delays. If you purchased a pre-construction unit, you may qualify for a credit up to $7,500 if you are impacted. Certain types of construction projects have been allowed to continue as a part of the essential businesses list. The following construction projects are permitted to continue even as businesses were forced to close (taken from Toronto Storeys and Construction Connect):
When a footing permit has been granted for detached, semi-detached and townhomes.
When an above-grade structural permit has been granted for condominiums, mixed-use and other buildings.
Renovations in residential properties and construction that began before April 4, 2020.
As of May 6, 2020, the Ontario government also allowed below-grade construction projects with permits to continue. This includes construction activity underground for the foundation to support high-rise buildings.
How Are Pre-Construction Home Purchasers Impacted By COVID-19?
There are 3 main scenarios to consider if you have already purchased a pre-construction unit or are about to:
Projects that are near completion: this is defined as projects where the full deposit (excluding the occupancy portion of the deposit) has been paid and the builder has already arranged construction financing. Even though construction continued as the pandemic started, delays occur as developers figure out how to complete projects while social distancing and implement steps for best practices. Many developers have also paused portions of their projects for the safety of their workers.
Projects that were recently purchased: assuming that the builder already has a permit in hand to begin construction, delays from the project are likely significant because of supply chain risk in getting the required materials for the project.
Projects that have just been launched: these projects are expected to experience the longest delay. This is because, at this stage, builders usually do not have permits secured when selling a project. Most builders sell a specific number of units before financing for construction is secured and permits are applied for after that. If you are considering a project that has just launched, it is recommended that you find out how far the builder is in the permit process.
What has happened to the real estate industry in Toronto since the Coronavirus?
The average price of homes in Toronto fell by 9% to $820,272 from March to April followed by a rise of 5% $863,599 in May. The slight recovery of home prices in May is still below the peak of $910,290 in February.
The prices of condos and detached homes follow a similar trend since the beginning of 2020 all the way to the Coronavirus impact and May. Prices for both home types continued to rise from January to March and fell by a similar percentage after March. From March to May, the average price of a condo fell by $33,000 to $625,445 and detached homes fell by nearly $75,000 to $1,033,341. On the other hands, the prices of townhomes stayed relatively flat compared to condos and detached homes.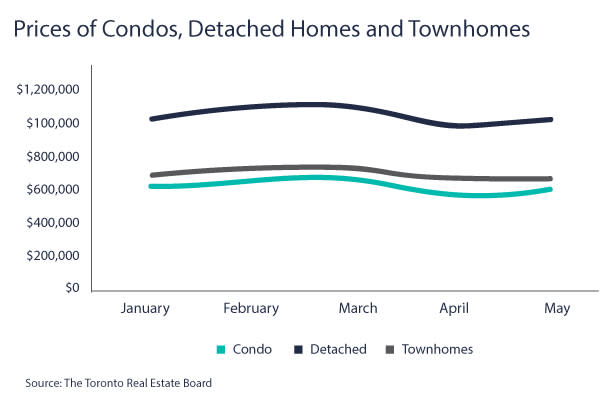 The Toronto real estate market entered 2020 with many real estate transactions happening. February had 44% more home sales than 2019 and it was expected that March would follow a similar trend if the Coronavirus didn't happen. The half of March 2020 resulted in the majority of home sales and by the end of the month even though many home buyers and sellers pulled out of the market, March still closed with more transactions than the past 3 years. In April, the number of home sales fell by 63% compared to March. Since May, home sales have recovered significantly compared to April but it is still well below the volume of transactions in 2018 and 2019.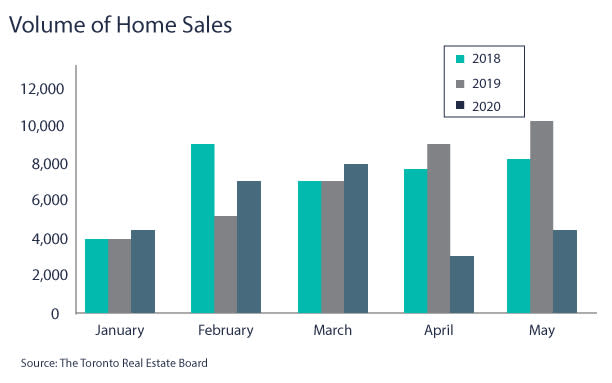 How US Real Estate Companies Have Responded to The Coronavirus
Like Canada, the US has also quickly responded to the impacts of the Coronavirus to real estate. We have looked at how Zillow and Opendoor have responded given that those companies hinge on doing real estate traditionally and the up-and-coming trend of iBuying.
Zillow is the largest listings site in the US and has the largest percentage of unique visitors to their website for real estate. They have put advisories to their listings with open houses as well as notices to encourage social distancing and the use of virtual tours, such as Zillow 3D Home Tours and video consultations. For their core business model, Premier Agents, which is advertising for real estate agents, Zillow is covering 50% of their Premier Agents' fees for April. They are also offering discounts and/or extensions to their other partners such as Zillow Rentals, Mortgages and New Construction businesses.
Opendoor is an iBuyer model where the company offers sellers cash upfront on a property then they go to list the property on the market. The idea is that sellers do not have to go through with the stress of doing showings and can control the time they would like to close. Although this model has generated some criticism because they charge a higher fee than traditional real estate agents, this model has been taking up as much as 5% of the real estate market in some US cities. The iBuyer model would have seemingly been welcome during COVID-19 given that sellers can avoid having strangers in their home. However, Opendoor has paused all of their cash offers on homes and in doing so, have temporarily stopped doing business. At Fivewalls, we estimate that the company has done this for safety reasons but also to reduce the risk of holding onto properties when prices may drop.
Furthermore, Opendoor is still allowing third-party cash offers for homes they still have on the market and are connecting sellers with one of their partner real estate agents if they need to list their home for sale. For home buyers they have suspended self-tour access of Opendoor homes and on-demand tours or non-Opendoor properties. However, they are still scheduling tours by appointment in special circumstances and have required precautions when viewing properties.
How are real estate agents responding to the pandemic?
Three real estate agents on how they have been continuing to help clients:
"Usually, I love to meet clients face to face especially our first meeting to discuss their real estate needs, however since COVID-19, this is no longer possible so I have been using a lot of technology and doing things virtually as much as possible, from virtual tours, video chats and all paperwork to be electronically signed. If showings must be done, it is important to protect everyone involved, the buyer, the seller or tenant and the real estate agents and have a COVID-19 kit with disposable gloves, hand sanitizer and wipes."
"I'm reaching out to my past and current clients and checking in to know how everyone is doing and if there is anything I can help them with (non-real estate related) and I'm serving people who have the necessity to move soon either to sell or buy their home or both."
"I have been utilizing a LOT of visual aids during this market and with 21 years in the business, it is great to know so many realtors in my area that I can chat with and reach out to on behalf of my buyers/sellers."
Get a top-rated REALTOR®
Tell us a bit about you and the property you are buying or selling.

ABOUT US: Fivewalls empowers home buyers and sellers to find the best real estate agent for their families. We've done all the work for you by creating one secure site to meet and contact top real estate professionals from leading brokerages.
Disclaimer: given that the Coronavirus (COVID-19) has caused shocks to how real estate is operated, please note that the information above could change at any time given that companies are constantly updating their policies in response to the pandemic. Intended to Solicit Buyers or Sellers that are not currently under contract with another real estate brokerage.