Sellers, Buyers, Market News
Last Updated: Aug 10, 2021
London, Ontario Real Estate Prediction 2021
The current London, Ontario real estate prediction is that prices will continue to rise, perhaps by up to 10%. This would render the London, Ontario housing market a seller's market. Not only is the pandemic driving this, but out-of-town buyers combined with a decreasing inventory of homes available to buy is also pushing real estate prices up. The Bank of Canada has lowered interest rates however, to a record low, and they will likely stay there until 2023 at least.
London, Ontario Monthly Real Estate News
Real Estate Prices in London, Ontario in 2020
The average home price in London (Dec 2020) is as follows (figures from London Ontario Real Estate and London St. Thomas Association of Realtors):
Single detached home price: $487,000
Semi-detached home price: $408,000
Townhome price: $430,438
Condo price: $311,166 (Apartment median price: $189,000)
London, Ontario House and Condo Prices
While the pandemic, low inventory and bidding wars have driven prices for landed properties up, the prices of condominiums has stayed relatively level.
Get listing alerts straight to your inbox
Thank you! We'll be in touch.
Get house alerts from top-rated real estate agents, it's free!
Bidding Wars for Real Estate and Property London, Ontario
London, Ontario house prices have definitely increased. With demand for housing outweighing supply, bidding wars have been seen across the board in Canada. In London's seller's, many home buyers are finding themselves in bidding wars and some houses are going above asking price as a result.
This can put first-time buyers out of the running to buy a house.
Property Tax Rate in London, Ontario
Due the pandemic London's city council is aiming to reduce the property tax rate. However, they only managed to reduce the 3.7% tax rate increase to 3.4% in 2021. As of November 2020, the London, Ontario property tax rate was 1.34%.
The land transfer tax rate that a home buyer must pay upon closing in London, Ontario are as follows:
0.5% for the first $55,000 on the property price
1.0% for amounts from $55,000.01 to $250,000
1.5% for amounts from $250,000.01 to $400,000
2.0% for amounts from $400,000.01 to $2,000,000
2.5% for amounts over $2,000,000
Popular Neighborhoods and Areas in London, Ontario
Byron
The Byron neighborhood has a number of good schools, while River Bend has golf courses, schools, shopping opportunities, social clubs, and a stunning collection of wildlife.
Summerside
Summerside, a newer neighborhood boasts a lot of outdoor space with sports facilities such as tennis and basketball courts, playgrounds, soccer fields, and a spray pad. While the two schools in Summerside are French immersion, there are English options just minutes away.
Oakridge
West London, Oakridge is an older neighborhood with green space, schools, and shopping malls. There are over 41.6 hectares of nature and forest trails as well as parks, golf courses.
Lambeth
Lambeth in Southwest London has much the same and is great for families as well with lots of activities, such as skiing and snowboarding, in the winter and mountain biking in the summer. There is a plethora of activities.
Stoneybrook
Stoneybrook in North London has only around 7,000 residents. It is an older, quieter neighborhood. There is a shopping center, trails, soccer fields and tennis courts. There is an off-leash park for dogs.
Get a top-rated REALTOR®
Tell us a bit about you and the property you are buying or selling.
Top Schools in London, Ontario
Elementary Schools:
St. Paul Separate School
Jack Chambers Public School
Stoneybrook Public School
Masonville Public School
University Heights Public School
Byron Somerset Public School
Clara Brenton Public School
John Dearness Public School
High Schools:
London Central
St. Thomas Aquinas
Oakridge S.S.
A.B. Lucas
Gabriel-Domont (Conseil Scolaire Viamonde)
Sir Frederick Banting
Mother Teresa
St. Andre Besette
Catholic Central
Saunders S.S.
Blyth Academy
Home Buyers are Moving to London, Ontario
Many immigrants and international students move into London, Ontario and rent for years before buying a home. People from outside London but still in the Ontario area move to London seeking lower-cost housing. As mentioned earlier, London's house prices, although on the rise, are still around 50% less than houses in Toronto and Ottawa.
Living in London, Ontario
The London Ontario population is only around 400,000 people, so it's not a huge city. Although larger cities are only a couple of hours away, there is plenty to do, and the community is friendly, supportive, and welcoming. The city is safe and there is plenty untouched nature when a break is needed from shopping centers, sports venues and other amenities.
As of 2017, there were 404,699 people in London. The median age is around 39, the male/female ratio 1.1:1, with 67% of residents married and 41% being families with children. Around 90% of the London population speak English only, and only 0.1% speak French only. 5% of the population is South Asian, 3% Chinese, 2.9% Black, 2% Arab, 1.8% Latin American. The remaining population is white.
Appeal of Buying Real Estate in London
Located in the Quebec-Windsor corridor of Southwest Ontario, London is a city that has big-town features but a small-town feel. It has a busy downtown but plenty of quiet parks and an abundance of nature. Business opportunity is plentiful, the community is diverse, and the community is expanding. Average home prices are around half of what a buyer can expect in bigger cities like Toronto and Ottawa.
London boasts the impressive Victoria Park, a beautiful 7.3 hectare park where there are many annual events, and the unique activity squirrel fishing, as a large population of Eastern Grey squirrels live in the park.
There are numerous museums and historical sites, including the house of the inventor of insulin, Dr. Banting. Markets, beaches, long walks, breweries, races, and all manner of other past times are readily available.
Canadian Real Estate Market Overview
Early in 2020, the Canada Mortgage and Housing Corporation predicted that home prices would drop by up to 18% over the year of 2020 and into 2021. Prices have instead risen by around 22% as of November 2020. The pandemic has rendered the economy uncertain, with sales halting during the usually busy spring market of 2020 and summer sales held back as well. These home sales were finally released over the fall and winter months.
Conclusion
London, Ontario is a city that walks the line between busy and quiet, with an area to suit almost any age and lifestyle. With so much to do and homes that are far cheaper than other bigger cities, this is definitely a city to consider!
Past Month Informgarphics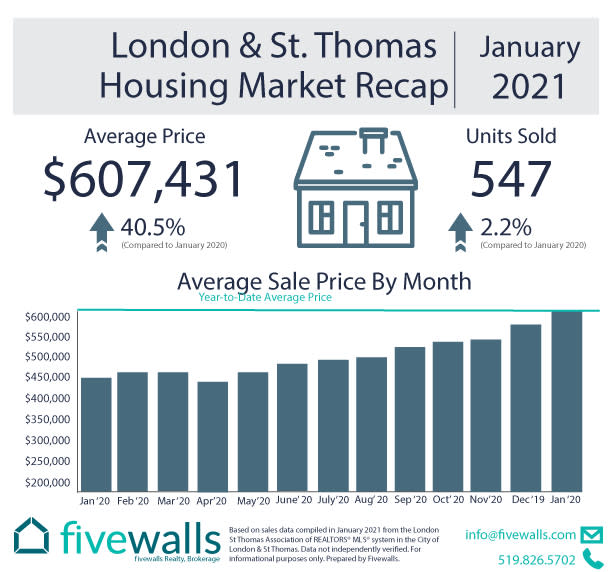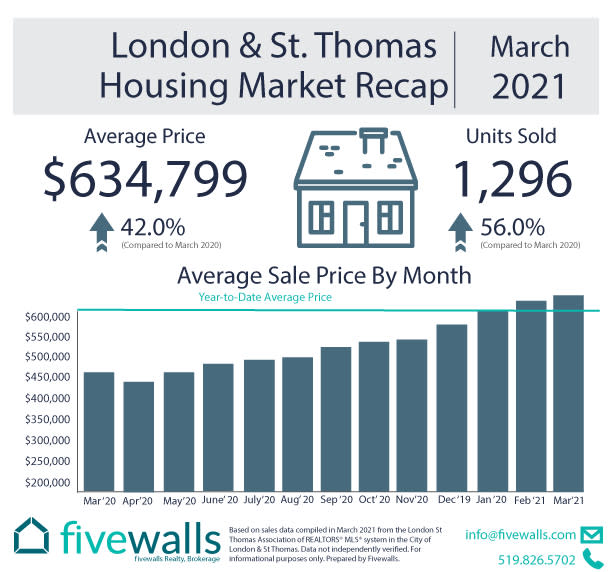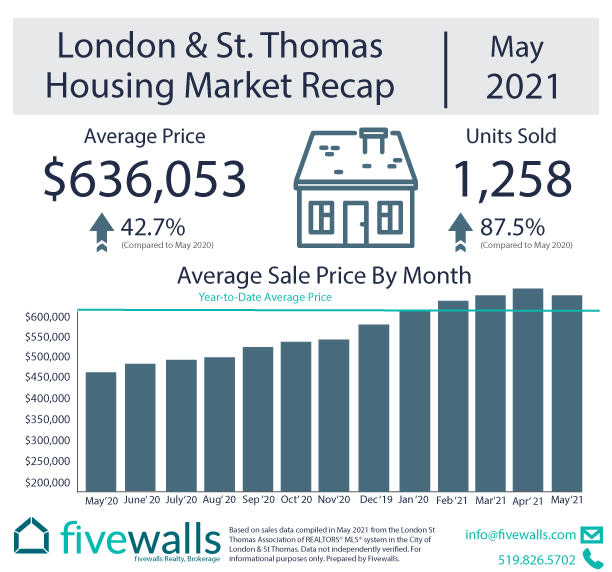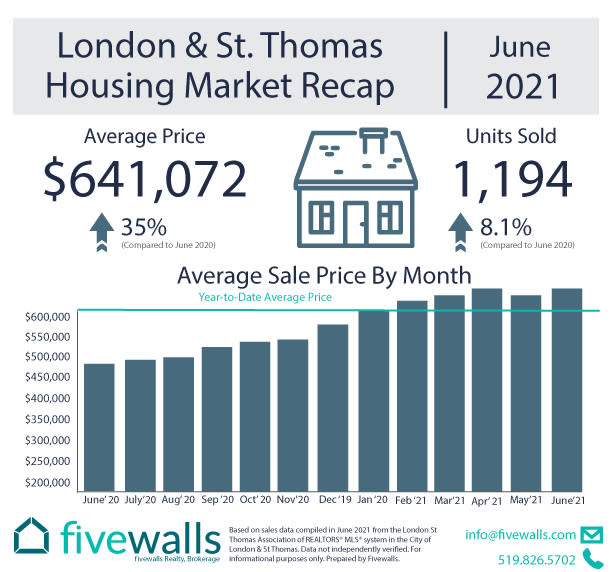 Other Real Estate Resources You May Be Interested In
First Time Home Buyer Incentives and Tips in Canada
Land Transfer Tax in British Columbia
Mortgage Pre-Approval Process in Canada
About Fivewalls
Fivewalls is the leading place to search for a vetted, top real estate agent at no additional cost. We specialize in screening real estate professionals for years of experience, service, transactions and customer satisfaction ratings. Home buyers and sellers can go on Fivewalls to see profiles of top real estate agents in their area and complete due diligence before picking one. For more information please visit Fivewalls.