Sellers, Tips & Advice
Last Updated: Jun 11, 2020
According to a study by the National Association of REALTORS® (NAR) in 2019, here are the most common reasons people sell their home:
16% said they wanted to move closer to family and friends
13% said their home was too small
11% said they moved for a job relocation
Due to the Coronavirus pandemic, we believe that we will see an increase in people selling their properties for the following reasons:
Pent-up sellers who delayed selling their home when the pandemic started.
Wanting a bigger home in anticipation of future waves of the Coronavirus.
Relocating to the suburbs due to lower costs of living.
Selling their investment properties due to a shortage of short-term and long-term rentals.
Before selling their home, a seller will typically live in their home for 10 years. Due to economic uncertainty, we may also see people stay in their homes for longer.
The CMHC (Canada Mortgage and Housing Corporation) predicted in May 2020 that real estate prices will not recover until late 2022 at the earliest. At Fivewalls, we have seen that the predictions from experts and banks have been ranging from housing prices dropping by 20% to prices increasing by 7%. This shows that the impact of the Coronavirus and recession are unpredictable. Forecasts are changing day-by-day.

The Canada Mortgage and Housing Corp. officials said in May that they expect real estate prices won't return to pre-recession levels until late 2022 at the earliest. However, they also cautioned that the impact of the COVID-19 pandemic is unpredictable and beyond its worst-case estimates prior to the outbreak.

Pros of selling a property during a recession
There is pent-up demand for homes. Interest rates are currently at an all-time low. At the time of this article, the Bank of Canada's prime rate is at 0.25%. Unlike previous recessions where interest rates were high, the attractive rates make homes more affordable to many buyers.
There are not many homes on the market. The active listings are down almost 50% in Ontario right now so this means there is low inventory on the market. This could be a good thing if you have a high-value type of home such as, a small detached home which is priced on the lower end.
Investors who pay in cash. During a recession, many investors look for deals and often pay in cash. The downside is that they are unlikely to offer the highest value.
Cons of selling a property during a recession
Less room for negotiation. As the market moves towards a buyer's market, many sellers are recommended to sell as soon as possible to get a higher price.
Harder to secure financing. This means that if your buyer's financing conditions fall through, there is a chance that you have to put your home on the market again.
In larger cities market that are feeling the effect of the "Airbnb" effect, there are a high number of condos on the market. This means that buyers have more choice when it comes to purchasing a condo and buts them at an advantage when negotiating if there are 20 other units in the building also for sale with similar comps.
To help urgent sellers navigate the increasingly uncertain real estate market, we gathered advice from four real estate agents in Ontario to get them to respond to questions that sellers have when thinking about putting their home on the market.
Get a top-rated REALTOR®
Tell us a bit about you and the property you are buying or selling.
What does the housing market look like in a recession?
Typically, in a recession, you will see more homes on the market and a small number of buyers looking to purchase. Since the pandemic happened, we are seeing a large decrease of new and active listings to hit the Ontario real estate market.
Can you time the market when selling your home?

When it comes to investing your money, many experts agree with the statement "It's time in the markets – not market timing – that matters." And this is true for the real estate market as well. While it may be tempting to sell your home now in preparation of a market downturn where real estate prices are expected to decrease it may be better to wait out the storm.
In an ideal world, you can figure out when you can sell your property at the highest price point and get the most value. However, most people are triggered to sell based on personal timing, not the timing of the market. You only know when you have sold at the best price you could have gotten in the market through hindsight.
How to get more exposure for your home in a recession?

Making small repairs that can differentiate your home from others. In a hot seller's market, buyers may be more willing to compromise on homes with less upgrades or curb appeal. However, if we move towards a buyer's market where buyers have more choice, you want to make sure you maximize the 'look' of your property. Here are some things that you should look into doing:
Simple landscaping: keeping your landscaping simple and clean can give the illusion of a low maintenance yard and bring curb appeal to your home. It also is the first impression buyers get of your home
Neutral paint throughout the home: painting your home a neutral colour can help buyers envision themselves in the home and can help the space feel lighter and larger
Upgrading fixtures and fittings: replacing old light fittings, fans and door fittings can help give your home a more modern look
Should you make renovations before selling in a recession?

When homes prices are at risk of falling in a recession, sellers need to act fast. Most people are not in a position where they can wait a few years to sell their property for prices to increase. If you are considering an upscale kitchen and bathroom renovation to get a higher price for your home. We advise you to think again. If you made the updates before you moved in and were able to enjoy the upgrades, then that's a different story. We strongly recommend against doing last-minute renovations before selling during a recession. Use the time to get your home on the market quickly before prices keep falling.
Research shows that a minor kitchen remodel recoups 81% of its cost in added value on average, versus 53% for an upscale remodel with stone countertops, custom cabinets and commercial-grade appliances. The same is true for bathrooms; a midrange remodel — new flooring and a few updated fixtures — delivers a 70% return on investment, while an upscale bathroom remodel — heated flooring, custom cabinets and designer fixtures — sees 56% on average.
Is there a relationship between interest rates and housing?

At the start of a recession, interest rates will typically fall.
When mortgage rates are low, it's easier for buyers to afford a home. This fuels some housing sales as buyers are able to take out cheaper mortgages. On the flip side, demand for housing will fall because of uncertainty in the economy. Homeowners may try to re-finance their mortgages, meaning they trade their current loan for a cheaper one. In periods of low-interest rates, more homes are built and real estate developers are able to borrow money at a cheaper rate to finance construction. As the economy recovers, interest rates will begin to increase.
What happened in past recessions in Canada?

The global financial crisis of 2008 caused property prices to decrease by nearly 9% in Canada. The interest rate was lowered to 2.25% and unemployment was at 8.5% with 400,000 jobs lost. Most of the impact was felt in Alberta where prices dropped the most. The rest of Canada was relatively unscathed with a fast recovery.
In 2014, a short recession in Canada was triggered by a collapse in oil prices and the Bank of Canada further lowered interest rates to 0.5%. During this time, economist stated that the low-interest-rate environment caused home prices to be 63% overvalued.
In 1991, home prices decreased by nearly 25% in Canada from the recession. Unemployment went up to 10.3% and interest rates were a whopping 9%.
In 1981, interest rates were as high as 18% - yes, you read that correctly. The unemployment rate during this period peaked at 12%. With a high unemployment rate and high-interest rate, home prices dropped about 27.6%.
Here's what else you should know:

Unemployment is nearly 12% in Toronto as of May 2020

In May 2020, Ontario's unemployment rate reached 13.6% which is 260% higher than January. Toronto's unemployment rate in May was slightly lower at 11.9% but still 230% higher than January. With the lockdowns and economic uncertainty looming over the housing market, home sales went from 8,000 transactions in March and falling to just below 3,000 in April. As the lockdown measures eased, Toronto's home sales in May were 55% higher than April but still well below what was expected of an active spring market.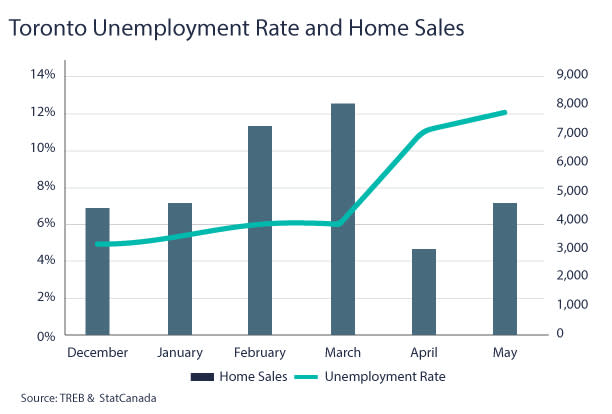 As of July 1, the CMHC will implement stricter lending standards that will reduce the purchasing power of homebuyers
Announced in early June 2020, the CMHC is set to raise the standards in getting mortgage default insurance. This move comes highly criticized and is expected to reduce homebuyers' purchasing power by nearly 10%. These are the changes that will apply as of July 1, 2020:
Homebuyers will not be able to use borrowed funds for a down payment
The minimum credit score required will be 680 (currently it is 600).
Applicants will also be subject to lower debt levels than they were allowed before.
All these changes are expected to reduce the number of homebuyers in the market and the impact on the pent-up demand are unknown. Regarding lowering the debt that applicants can carry, this is measured by the gross debt service ratio (amount of income that is used to cover costs of owning a property) and the total debt service ratio (which includes costs of servicing debts outside a mortgage). The CHMC will be lowering the maximum gross debt service ratio from 39% to 35% and the maximum total debt service ratio to 42% from 44%. Furthermore, these rules do not apply to private mortgage insurers although many are expected to follow these guidelines voluntarily. These new measures are being put in place to ensure the stability of the housing market and minimize the risk of household debt that was already at high levels before COVID-19.

ABOUT US: Fivewalls empowers home buyers and sellers to find the best real estate agent for their families. We've done all the work for you by creating one secure site to meet and contact top real estate professionals from leading brokerages.
Disclaimer: given that the Coronavirus (COVID-19) has caused shocks to how real estate is operated, please note that the information above could change at any time given that companies are constantly updating their policies in response to the pandemic. Intended to Solicit Buyers or Sellers that are not currently under contract with another real estate brokerage.