Buyers, Tips & Advice
Last Updated: Apr 01, 2020
If you are considering relocating to Kitchener-Waterloo (KW), whether that be because of a new job, to be closer to family, or you just want a change, you will not be disappointed with your decision.

The Ideal Location
If you are relocating to KW, but work in another city, you are still in luck. KW is the perfect location to commute to work. Toronto is still a bit far (approximately an hour and a half), but Cambridge, Guelph and other surrounding areas are 30-40 minutes away.

The Job Search
The unemployment rate in KW is low, currently sitting at 4.7%. There are large businesses in KW too, like Google, Allianz, Toyota Manufacturing, the universities, and more.

Research Schools
The Waterloo Region District School Board runs 121 schools, each of which have very high reputations from kindergarten to grade 12.

Franklin Public School
Sheppard Public School
Chicopee Hills Public School
Grand River Collegiate Institute
Forest Heights College Institute
And more

KW is also home to the infamous University of Waterloo and Wilfred Laurier University, so if there are students in your household, the university and college campuses will conveniently be located for them no matter your location.

Get Used To The Transit
Grand River Transit is also easily accessible in every neighborhood, so if you do not own a car, getting to main locations like school or work should not be an issue.

You Will Stay Entertained
There is plenty of things to do in the KW area. Whether you feel like a hike through a conservation area or the mall, the options are endless. There are a few movie theatres across the city as well, and many top-rated restaurants and breweries to check out, especially Abe Erb Brewing Company or Red Circle Brewing Company. Even in the winter, there are plenty of family activities to enjoy, like skiing at Chicopee or skating at the Waterloo Public Square rink.

It Is More Affordable Than Other Cities
The average priced home in Kitchener is currently around $518,000, $6,000 less than the average priced home in Cambridge, and $9,000 less than the average priced home in Guelph. The cost of living is also 26% less than Toronto! The average annual salary required to live in Kitchener is about $48,000 - $50,000.

Diverse Community
The Waterloo Region is one of the most diverse areas in Ontario and welcomes any newcomers to the area. There is a wide range of foods, whether you are craving pub style, Thai, Vietnamese, and more.

Before you move to the KW area, make sure you secure a job first and find a home in a neighborhood that works best for you. With the help of a local real estate agent, your move will be so much easier. They can introduce you to the neighborhood, point you in the direction of top reputed schools, and even tell you what restaurants are a must!
Kitchener-Waterloo Current Housing Market Stats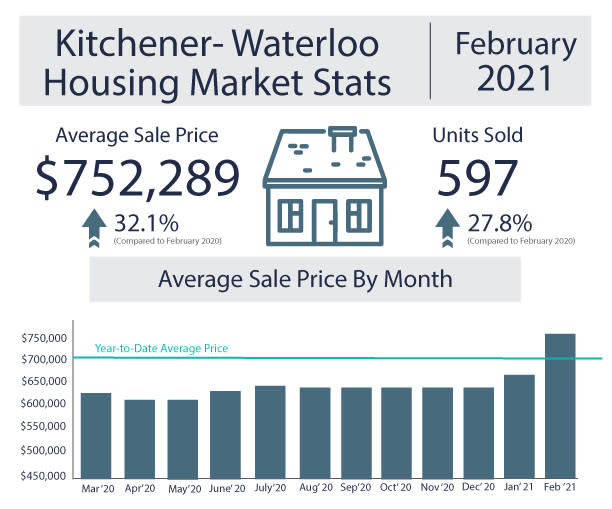 Disclaimer: prices and numbers subject to change.
Top Real Estate Agents By City