Market News
Last Updated: May 27, 2020
The impact of foreign buyers in Canada's real estate market has been so significant to the point that in 2017, the Canadian government intervened to slow down the growth of the housing market. By introducing a 15% tax that foreign buyers would have to pay for real estate in April 2017, housing sales immediately dropped in May 2017. Throughout the rest of 2017, the real estate market shifted from a seller's market to a balanced market. Four months after the introduction of the foreign buyer's tax, an article from The Globe and Mail found that non-resident buyers were spending nearly 50% more on properties in Toronto compared to residents. In Toronto alone, foreign buyers owned $37 billion worth of real estate.
In this article, we will explore the following topics:
Where are foreign investors of Canadian real estate coming from?
How much do foreign investors spend on real estate in Toronto?
What was the demand from foreign buyers in Canada's real estate market like before COVID-19?
Impact of COVID-19 on real estate
How has immigration impacted the Canadian real estate market?
Where do economic immigrants in Canada tend to settle?
What has happened to immigration in Canada since the COVID-19 pandemic?
What is expected to happen to immigration and housing prices moving forward?
Where Are Foreign Investors of Canadian Real Estate Coming From?

Data from the Canadian government in 2018 show that nearly 71% of foreign buyers in Toronto came from China, followed by 4.6% from the US and 3.6% from India. The main reason Chinese buyers invest in Canadian real estate is education as opposed to investment according to website Juwai.com which has a partnership with Sotheby's International Realty Canada. Toronto, Vancouver, Montreal and Calgary were cited as the top cities that attract Chinese foreign buyers.

How Much Do Foreign Investors Spend on Real Estate in Toronto?

Non-residents in Toronto spent over $100,000 more on detached homes compared to residents based on assessed values in 2017. That means detached homes in Toronto owned by non-residents were worth 12% more than resident-owned properties. For condos, the average assessed value owned by non-residents were worth about $420,000 compared to $387,000 owned by residents. Condos owned by non-residents were assessed on average 9% higher than resident-owned condos. Statistics Canada released data on the average and median assessed values of homes purchased by residents and non-residents.

Average Property Assessment Value in Toronto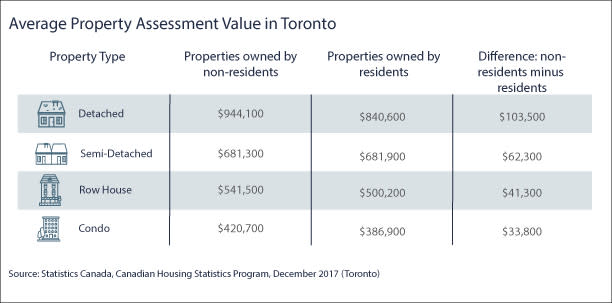 What Was Demand From Foreign Buyers In Canada's Real Estate Market Like Before COVID-19?

In 2017, 3.4% of all residential properties in Toronto and 4.8% in Vancouver were owned by non-residents. Vancouver had more demand from foreign buyers compared to Toronto. However, the buying patterns and preferences remained fairly consistent among non-residents. Demand for condos was the highest among non-resident buyers with just over 7% of all condos in Toronto were owned by non-residents compared to just under 8% in Vancouver. Furthermore, there was less ownership in single-detached homes from foreign buyers likely due to price and ease of maintenance. High preference for condos likely contributed to the resiliency of condo prices after the foreign buyer's tax was introduced in 2017. Until COVID-19, condo prices in Toronto were steadily increasing, unlike detached homes which experienced a drop after the foreign buyer's tax was introduced.

Housing market inside scoop
Thank you! We'll be in touch.
Sign up to get news before everyone else!
Properties Owned By Non-Residents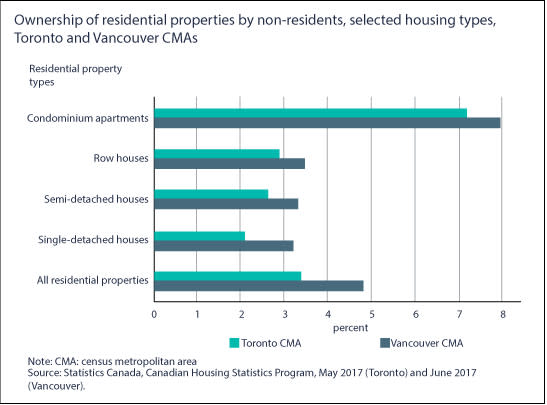 How May COVID-19 Affect Foreign Investors in Canada's Current Housing Market?

With historically low-interest rates and a low Canadian dollar, Canadian real estate is still very attractive for foreign investors. When trying to predict what will happen to real estate prices, many real estate experts have compared COVID-19 to the impact that SARS had in 2003. Although SARS was mainly present in Asia, it still impacted select parts of Canadian real estate. During the SARS outbreak, home sales in Toronto dropped by 10% compared to the year before. Despite the decline, home prices recovered relatively quickly and increased by 6% during the entire SARS outbreak. Keep in mind that SARS was an epidemic and it had less than 9,000 cases worldwide compared to the global spread of COVID-19. At Fivewalls, we caution buyers and sellers into comparing the impact of real estate to SARS during the COVID-19 pandemic because the economic repercussions were not as severe. For more information about how COVID-19 is impacting real estate, check out Fivewalls' FAQ on the Coronavirus and Canadian real estate.
Outside Real Estate - Scrutiny of Foreign Investment Into Canada

As of April 18, 2020, the Government of Canada is taking more action in scrutinizing foreign investments into Canada. This is due to a decrease in valuation for certain businesses as a result of the COVID-19 pandemic. To prevent opportunistic foreign buyers from taking advantage of low valuations, the Government has decided to take action. In particular, they are more concerned with businesses that are related to public health and ones that impact the supply of critical goods. The scrutiny of foreign investment into Canada is expected to last until the economy recovers from COVID-19.

How Has Immigration Impacted the Canadian Real Estate Market?

Since 2015, the Liberal government has set an annual target of 300,000 immigrants per year. Before this new target was set, there were about 250,000 to 270,000 immigrants settling in Canada. Based on the immigration targets set for 2019, 58% were economic immigrants, 27% were family class immigrants, and the remaining 15% were refugees, protected persons and humanitarian immigrants. Canada's immigration policy has contributed to the strong demand for housing over the years. Between 2019 and 2021, one million immigrants are expected to come to Canada of which most are economic migrants.

Get a top-rated REALTOR®
Tell us a bit about you and the property you are buying or selling.
Where Do Economic Immigrants in Canada Tend to Settle?

Economic immigrants tend to settle in Canada's most populous cities which are Toronto, Montreal and Vancouver. Where immigrants decide to rent or purchase homes have impacted both demand and price. In 2004, over 72% of economic immigrants settled in Toronto, Vancouver and Montreal compared to 51% in 2014. The decline signals that property prices and new opportunities in up-and-coming cities have also caused a shift in demand for housing in new neighborhoods. We can see examples of booming cities located just outside the Greater Toronto Area as an example to see where economic immigrants have decided to settle.

What Has Happened to Immigration in Canada Since the COVID-19 Pandemic?

Since the pandemic, immigration has been paused but applications are still being processed. Canada is not allowing immigrants into the country and they are only allowing the following people into the country due to travel restrictions that are set until the end of June 2020:
Canadian citizens
Permanent residents
Immediate family of Canadian citizens and permanent residents
Permanent resident applicants who had been approved for permanent residence prior to March 18 and who had not yet travelled to Canada
Temporary foreign workers
International students who held a valid study permit or who had been approved for one before March 18
Transiting passengers
Although immigration applications are still being processed, the expected delay is that applicants after March 18 will not likely have their applications processed for another 6 months. Furthermore, since the list of people allowed into Canada with the travel restrictions includes immediate family members, family class immigration is less impacted. That being said, Canada has delayed the 2020 parents and grand-parents immigration program. Because family class immigrants make up less than 30% of all immigrants, the impact on real estate will be less than economic immigrants.
What is expected to happen to immigration and housing prices moving forward?

An article from the Huffington Post expects Canada's housing prices to fall for years due to a decline in immigration levels. A U.K. economist, Stephen Brown, predicts that Alberta will decline the most in housing prices due to the fall of oil prices and its strong dependency on immigration. He also expects home prices to drop by 5% during the pandemic and that home sales and prices will remain at pre-COVID-19 levels for years to come. In the past, immigration in Canada has slowed during 4 out of 5 recessions and economic immigrations are less motivated to come when unemployment is high. Given that COVID-19 has caused unprecedented unemployment rates across Canada, this is an indicator to watch out for. A decline in immigration would shift investors' mindsets that rental demand can always be filled with immigrants and data already shows that rental prices are dropping. Not to mention the impact of the travel restriction on Airbnb condos which are causing investors to quickly find ways to generate cash flow for their properties.
Here is what 3 of our Fivewalls Certified Agents predict on foreign investment into Canada's real estate market.

Angela Baas (Kitchener-Waterloo):
"My opinion is that foreign investment will be curtailed for a couple of years as the COVID-19 has taken its toll on the overall economy -not just in Canada but also overseas. The overall economy in the USA, as well as Asian countries, must recover from the vast amount of money that was invested in stimulating to stay afloat."
Cory Matthews (Toronto):
"Canada still remains to be a safe nation for foreign investment, we are a multi-cultural and diverse country which I think why so many people around the world pick Canada as their new home, as they can find pieces of their culture and a familiar feeling of home while being in Canada. So I see it continuing once the world gets past COVID-19, it will likely take a year or two to get back to the numbers we saw pre-COVID as we and the rest of the world figure out how to travel again. "
Kalpana Bhavsar (Toronto):
"Foreign investment has huge potential as global investors consider Canada as a safe haven. Political stability, low Canadian dollar and growing economy are few strong reasons to attract investors and parents of vast numbers of students coming to pursue education also are keen foreign investors."


ABOUT US: Fivewalls empowers home buyers and sellers to find the best real estate agent for their families. We've done all the work for you by creating one secure site to meet and contact top real estate professionals from leading brokerages.
Disclaimer: given that the Coronavirus (COVID-19) has caused shocks to how real estate is operated, please note that the information above could change at any time given that companies are constantly updating their policies in response to the pandemic. Intended to Solicit Buyers or Sellers that are not currently under contract with another real estate brokerage.